OMEGA:

Exclusively By C-THRU
1. Dual thermal cladding stops heat/cold from transferring/ into the structural envelop of the Omega wall system, Vinyl transfers only 2.7 BTU per hour while aluminum transfers 1400-BTU making the vinyl cladding the ideal insulation from outside temperatures. Vinyl eliminates the possibility of condensation from temperature transfer (condensation can cause toxic mold to from).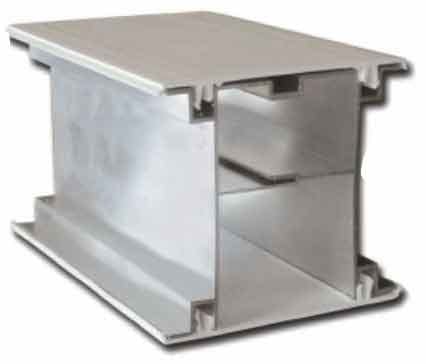 2. Aluminum is the ideal metal for light weight structural extrusions. The Omega wall structure is all non-broken extrusions eliminating the possibility of structural failure due to extrusion separation.

"THE OTHER GUYS"
INDUSTRY STANDARD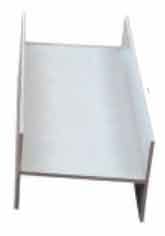 1. 2" or 3" non-thermally broken painted aluminum structure. The problem is it transfers over 1400+ BTUs per hour making your room hot in the summer or cold in the winter which also allows for condensation inside your room, possibly causing toxic health concerns.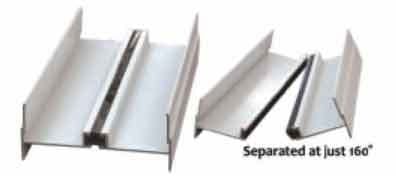 2. 3" thermally broken structure. As you can see the thermal break is in the center of the structure which allows the heat / cold to transfer into the envelope of the room before it's slowed down. The biggest problem is potential structural failure (see broken extrusions). A thermally broken extrusion structure is solely dependent on the resin that connects the two separate parts. Under temperatures as low as 160 degrees these thermal breaks separated. The building codes do not recognize thermally broken extrusions as structural components for obvious reasons.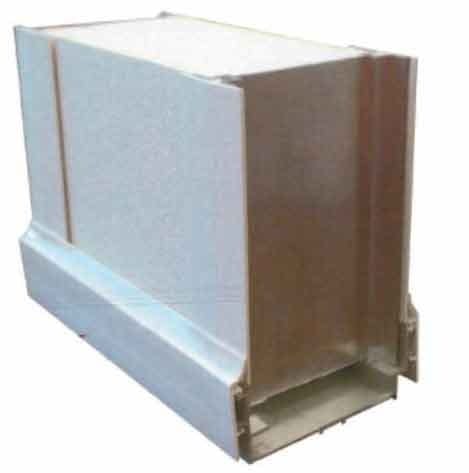 No Exposed Screws.
1. C-Thru's Omega room is designed to conceal what would normally be exposed screws on our rooms. We do that by using our exclusive dual thermal cladding system. All screws/fasteners can be applied in abundance to fasten the room together. Then on completion the thermal clads are applied concealing ugly, exposed screws well as the factory punched water weep holes.
2. No Exposed Caulking. Other items not seen on C-Thru's Omega room is exposed caulking.
Caulking is necessary to ensure a water tight installation. With the Omega room it's there but you'll never see it. All you will see is the sleek smooth lines of the finished product.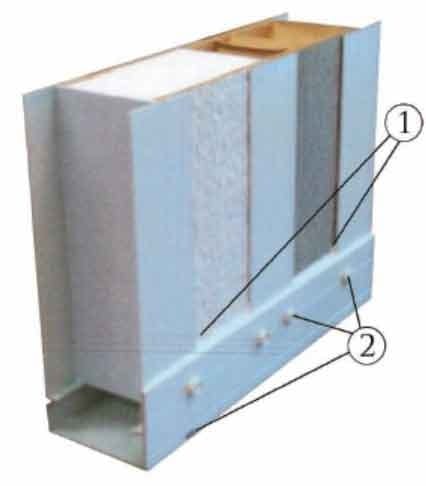 "THE OTHER GUYS"
INDUSTRY STANDARD
1. Exposed caulking. What are the problems?
Looks great the day your room is installed but in the following weeks and months it becomes a magnet for dirt and grime, additionally caulking exposed to direct sunlight breaks down due to the suns UV rays. Exposed caulking shrinks, and cracks, allowing leaks where none originally existed. The seal of the room is broken and will require ongoing maintenance to prevent water intrusion.
Exposed screws and weep holes. What's the problem with this? Screws and weep holes are a necessary part of your room, but you do not need to see them. Most rooms other than C-Thru 's Omega rooms do not conceal the unsightly parts of their product.

Ultimate All-Weather, Solid, Insulated Building Panel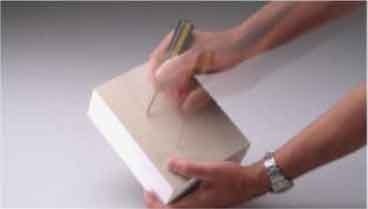 A SCREWDRIVER DOESN'T DAMAGE THE TUFFCORE
- DURABLE, SCRATCH RESISTANT, COLOR RUNS
COMPLETELY THROUGH
- RESISTANT TO OUTDOOR EXPOSURE, AGING,
STALNS, CHEMLCALS, AND YELLOWING
- WILL NOT SAG OR BOW, EVEN WHEN EXPOSED TO
HIGH TEMPERATURES

"THE OTHER GUYS"
INDUSTRY STANDARD PANELS

WOOD/ ALUMINUM OR FIBERGLASS
- WOOD PAN ELS ABSORB WATER
AND DEGENERATE WITH AGE.
- ALUMINUM DENTS AND
SCRATCHES EASILY
- FIBERGLASS DEGENERATES OVER TIME WHEN EXPOSED TO UV SUN RAYS, CARDBOARD OR SOFT FOAM CORE
- CARDBOARD ABSORBS MOISTURE AND DEGENERATES. AND HAS LITTLE TO NO INSULATION-SOFT FOAM POORLY INSULATES AND DENTS EASILY.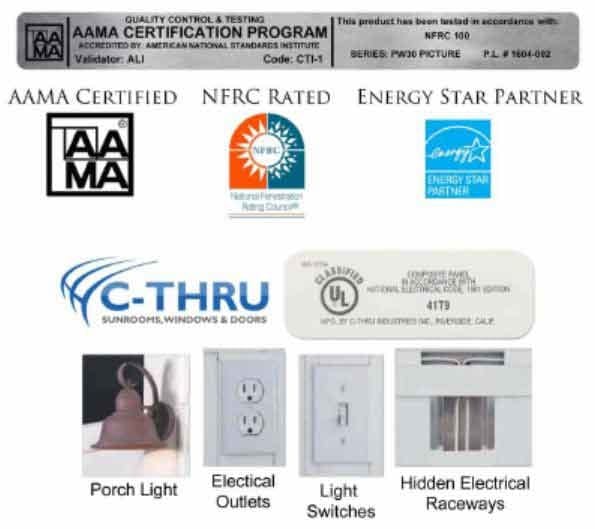 "THE OTHER GUYS"
INDUSTRY STANDARD
WINDOWS AND DOORS
-NON APROVED
-NON RATED
-NON REGULATED
ELECTRICAL SYSTEM
-EXPOSED CONDUIT
-STREWN EXTENSION
CORDS ON FLOOR
-NON UL LISTED,
BOOTLEGGED ELECTRICAL
-WIRE MOLD